News
Discontinued
Final version 1.5 released --- 17 August 2007
Definition file 0.40 is now available --- 17 August 2007
---
Info
What is malware?
Definition: Malicious software, developed for the purpose of harming computers; examples include computer viruses, worms, trojans, and spyware.
In Malware Immunizer, I define malware as any unwanted programs that install themselves without the user permission, deteriorate the performance of the computer, threaten the user like violation of privacy and those that execute malicious instructions.
What is Malware Immunizer?
Malware Immunizer is created to protect your system against known malware and maybe unknown ones, it also includes legitimate software that are potentially destructive; meaning that it can damage the system, for example the software does not have a working "undo" function or making changes to the system without the user approval. It also block rogue anti-malware software and prevent users from falling into scams - purchasing the rogue software that claim to clean your "infected" system or even advertised as "free". These rogue software may also falsely detect some files and registry entries as "infected" and you may end up removing important system files or registry entries that are needed for Windows® or other software to run correctly. It can prevents some of the malware from installing on your system, which means that you still need an anti-virus software and a firewall. Not all the variants of an particular malware may be in the definition file. Malware Immunizer does not need to be constantly running, you just need to select the items to be immunized against, then close the program and remember to update it frequently. It is also a malware remover, it can detect and delete malware or you can use other anti-malware programs. The main purpose of Malware Immunizer is to detect, remove and prevent some malware from infecting your system. Malware Immunizer can check for Hosts file hijackers and remove them. It can also download Hosts file to block bad websites. Now it includes a junk files cleaner.
How does Malware Immunizer works?
Malware Immunizer is a very simple tool that only create files and folders on your hard disk drive! So how does it prevent the installation of malware?
Actually when you execute a executable file or installer, it may unload or create files on your hard disk drive. Let said a virus want to create a file named virus.exe on C: (C:\virus.exe), however if a folder named virus.exe already exists on C: (C:\virus.exe), the malicious file will not be written or overwrite the folder. Malware Immunizer make use of this behavior to prevent installation of malware by creating folders of known malware filename with path used by the malware. Note that it mostly only prevent installation of the core files that will be run every time the system boot up, meaning that when a malware is executed it may create other malicious files that must be cleaned using antivirus program. Likewise files will be used to prevent the creation of malicious folders which can contain harmful files.
View the demo here.
How effective is Malware Immunizer?
First, I would say it is not effective if a malware creates a file on the hard disk with random file or folder name. Some malware maybe smart enough to remove existing file and folder created by Malware Immunizer prior to creating the files/folders. But from what I see, I haven't see such a malware. Malware Immunizer WILL NOT remove any existing malware and it is NOT a replacement for antivirus program or other scanners. Malware Immunizer may be useful when a malware attacks and your antivirus is disabled or destroyed, provided that Malware Immunizer does protect against the malware items. Malware Immunizer can prevent malware with filename like lsass.exe from installing in the windows directory, which is same as the filename of a system file in the windows system directory, this is often a trick used so that the user will not notice any suspicious process in the Windows Task Manager. In short, you will still need antivirus and antispyware programs to fully eliminate the malware and you are recommended to enable their real-time monitoring function. Malware Immunizer only contains definition of some wide spread malware, it is impossible to add every malware into it, so from time to time, old items will be removed when they are no longer a threat. It can also prevent against some of the spyware/adware installations.
ScreenShot: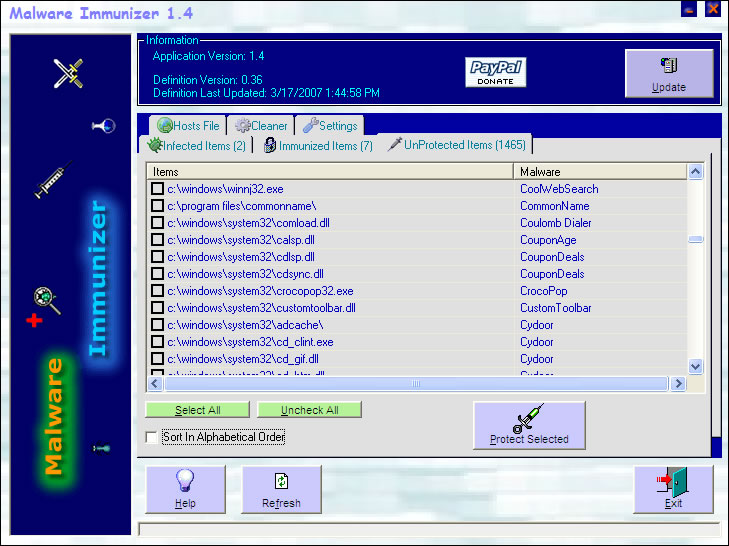 Download Malware Immunizer 1.5:
Download Definition File 0.40:
Right click and choose "Save Target As..." (IE) or "Save Link As..." (Firefox). You need to remove all protection before you copy this file into MI installation directory and overwrite the existing file. Use this manually only when you are unable to use the built-in updater.
---